BT Arise Free version is our hottest Joomla template with the biggest number of download at Bowthemes site. Many customers are using it with positive feedback. Besides, there are recommendation which ask Bowthemes Team update advanced features for this template. Therefore, this month, we have released the BT Arise Free Version 2.0 with amazing features instead of a brand-new template.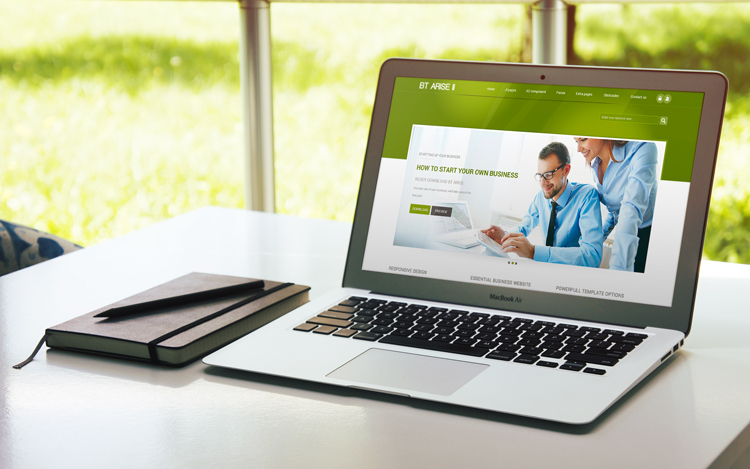 Responsive support
BT Arise Free Version 2.0 supports responsive feature with a fluid grid system so your site will be displayed on any screen size of desktops, smartphones and tablets smoothly.
Joomla 3.x support
Now BT Arise Free is compatible with Joomla 3.x so you easily update your website with latest advanced features of Joomla.
BT Simple Slideshow Free Module
BT Simple Slideshow Free Module allows you to easily display images with many animation types on your responsive websites. You can upload images from local computer or mobile devices and fully configure with a lot of options. Also the module supports swiping to change slide on mobile devices. Undoubtedly, BT Arise Free Version 2 will bring you along impressive image slideshows.
BT Social Connect Free Component
Social network communication is extreme professional and effortless than ever thanks to BT Social Connect component. It is a multi-task social networking tool for Joomla. This component helps turn your site into a social hub. Main features are social auto submission (including Facebook, Twitter…), social log in and registration, and add-on social widgets. With friendly CPanel being equipped, you find easy to manage article statistics and message logs. In short, to improve your social networks strategies,you just need to use this available component instead of downloading and installing a bundle of new extensions.
Joomshopping Integration
BT Arise Free Version 2.0 can be perfectly used for multi-purposes sites and especially e-commerce ones. This template is flawlessly integrated with Joomshopping component with "Add to cart" button. The shopping page is designed with Joomshopping in mind. Therefore, you will have the cool shopping page with BT Arise Free.
Bonus Pages
In addition to the shopping page, you get some free extra pages such as K2 component pages and Joomla pages (Category, Feature, Single article, Web link and Archive articles). You freely select and use them. Without redesign needed, it's so convenient.
6 Preset Colors Support
This template comes with 6 preset colors including green (default color), blue, cyan, deep, orange and purple. So you easily choose and preview whole template in various colors before installing an appropriate color on your site.
What fantastic features are!And it's even more fantastic because template is completely FREE to download. Why not download
now?