We often get asked "How long does it take to learn Joomla?"
We reply: "You can learn very quickly with the right help. We recommend Stephen Burge and his amazing OS Training team."
Hey, what is OS Training and Steve Burge?
Founded by Steve Burge, OSTraining (short for Open Source Training) is one of the most successful online training companies for Joomla and other open source CMSs.
Starting as an IT teacher, Steve now travels around the world teaching people how to use Open source software such as Joomla, WordPress and Drupal. He has been involved in many important Open Source projects, starting user groups and serving as a board member. Also, Steve is the author of best-seller book series "Joomla! Explained".
OS Training Service Highlights
Ultimate Training Sessions
With your membership, you'll gain access to over 1000+ training sessions, including Joomla!, WordPress, Drupal, and coding. These high-quality video tutorials cover beginner and advanced knowledge about Template design, , security, SEO, HTML, CSS, PHP and more.
If you still have questions after watching a lesson, you can contact the experts at OSTraining and a member of their staff will always help you.
Still have a question about Joomla, Wordpress, Drupal…? Simply submit a request for detailed tutorial and a step-by-step written guide will be put together for you.
Take the initiative in your study
Since all training is online, you can set your own schedule. Access the training sessions 24 hours/7 days a week.
Famous and Happy clients

OSTraining has helped train a number of popular organizations including Apple, World Bank, Yale University, The White House, Harvard, and more.
Most of their customers are Extremely happy with OS Training course. Judi, a trainee shared her experience:
"Open Source Training has been perfect and the value far exceeds the price. When I found them, I was only going to sign up for one period, but when that was up, I decided to stay with them, and I plan on continuing to. Steve is excellent - the answers are prompt and thorough, and I've learned a tremendous amount of information. They've got excellent tutorials that Steve sometimes points me to, and those are short and easily consumable. I love OS Training. I can do it piecemeal when I have
time, and learn what I want to, relevant to what I need. And when I run into a problem - I know exactly where to go for the answer so that I can move forward!"
How much will it cost?
Start at $25/month for all OSTraining courses. This membership also give you access to Drupal, Wordpress, Coding, Training and support.
How do I get started?
To make your starting easier, our friend Steve - the head of OS Training, gives you a nice discount code
Step 1: Browsing OS Training pricing plan
Step 2: Selecting a membership
Step 3: Inserting Bowthemes coupon code
Step 4: Making the payment using Paypal, any major debit or credit card.
Step 5: Enjoy learning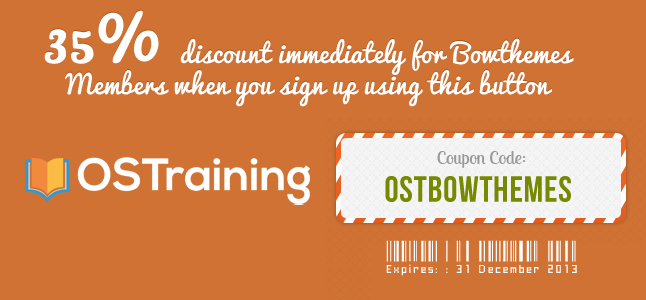 I'm ready to be a Joomla Expert