StackIdeas become well-known in Joomla Community by their popular blog component EasyBlog and the Yahoo-Answer-style extension, EasyDiscuss. Besides, Andrew Rogers and his team get many testimonials for their amazing support speed. Most of their customers have high satisfaction in their flexible, smooth running and user-friendly Joomla components.
Let's explore how good their products are!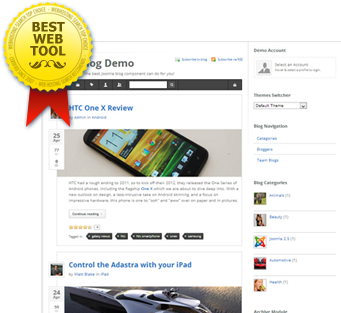 EasyBlog is considering as best extension in the Joomla blogging world. After installation process like all other Joomla components, you get a complete blogging platform with full features:
Complete Composing & Publishing tools.
Media Management
Feed imports
Over 20 different Themes supports
Simple Dashboard
WYSIWYG Editor
Micro Blogging
Compose Now, Edit Later
Spam Protection
RSS Feeds and Tagging
Rating System and Avatars
30 Days Money Back Guarantee!
Non stop there, this product supports various blogging extensions from third parties, what make it absolutely perfect:
| | | |
| --- | --- | --- |
| Mail Chimp | JomSocial | Community Builer |
| | | |
| Improve loyalty by email registration and auto-send email about new blog published. | Establish your own social network for website users under a professional look. | Free tools to build member community with good features supported. |
| Zemanta | Mighty Touch | Google Adsense, Ping O Matic, Feedburner |
| | | |
| Save your blogging time and extend visitor's web usage by recent images and recent contents. | Ready to display your MightyTouch profiles and profile images at any time. | Complete package for SEO and Money making with ads. |
Using this extension for the next series of Bowthemes Template, we just realize this is the most stable component from top-class developers. Rated five stars for both product quality and services!
EasyBlog starts at $59.
View DemoTypical examples…
EasyDiscuss
Another great extension that we would like to introduce today: Easy Discuss. This Joomla Extension is ideal to create website forum, customer support system and Q&A web page, by simple keeping your discussions real and live.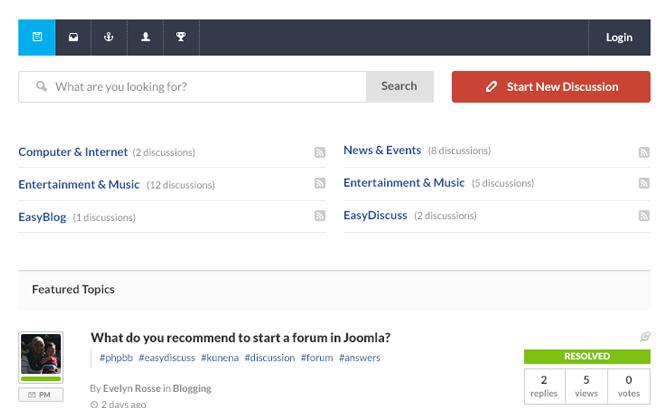 For those who had experienced the famous Yahoo! Answers, you will see Easy Discuss look familiar.
Now let's have a look at the main features:
User friendly
Blend perfectly with your Joomla Template
Compatible with Joomla versions 1.5, 1.6, 1.7 and 2.5 and 3.0.x
Cross browser support Firefox, Chrome, Safari, Opera and Internet Explorer versions 8 and 9
Integrates with Joomla articles, K2 and EasyBlog.
Smart user engagement
Reward dynamic users by Badge system.
Advance access control in categories.
Powerful points system to honor active users
Receive live notifications as they come in, real-time
User friendly toolbar to manage, sort and search discussions.
Social Media friendly
Automatically get profiles from EasyBlog, Gravatar, JomSocial, Community Builder, Anahita...
Auto share discussions in Facebook, Twitter, and more.
Extra features:
SEO optimized in titles and topics.
Set password protection for private discussions
Add polls into discussions.
Report abuse discussions.
Google Maps integrated
Allows code syntax usage for advanced users
Our biggest regret is that we haven't known about this out-of-sight product before established Bowthemes forum support. So if you are wondering which extension to use for potential forum or ticket system, don't forget to try EasyDiscuss and you won't be disappointed.
EasyDiscuss starts at $59
View Demo Typical examples
Do you know?. Joomla website developers who build websites for customers can enjoy better prices with The Professional Bundle that consists of both EasyBlog and EasyDiscuss. This Bundle will save lots of money for web developers in the long run, too.