We have released BT Education which is integrated with JomSocial and it is a beautiful education template. The people at JomSocial think so too. To encourage you to use it, they're offering BowThemes customers a 20% discount on a JomSocial subscription.
That is a great deal!
What is JomSocial?
JomSocial lets you create your own Facebook-style social network. It's packed with great features, including:
A powerful stream with a great share box. Your members will be able to publish status posts, videos, photos, moods and locations.
Customized profile pages. Let your members express themselves freely!
Photo galleries and videos.
Groups to bring like-minded members together.
Events that support your community through real-life gatherings.
And much more!
JomSocial's admin is powerful, rich and friendly
JomSocial's admin has a beautiful and user-friendly interface. It's packed with some really great features:
Privacy controls
Feature toggles
Profile customization
Stream monitoring
Member, event and group approval.
And much, much more!
JomSocial and our templates - made for each other
BT Education is our latest template supporting JomSocial. It's great for educational communities but if your members are into travel, try the BT Travel template. It's the perfect format for people who spend time on the road. Both templates were designed with JomSocial in mind.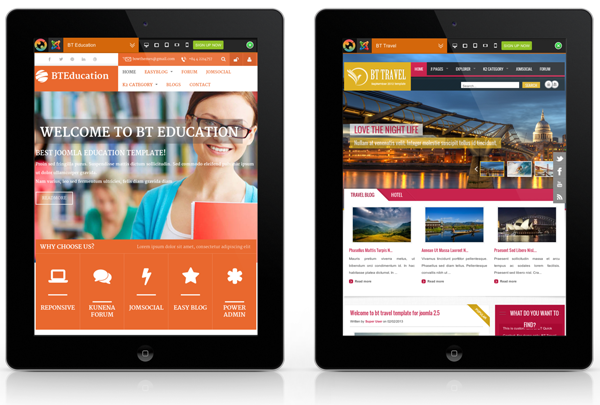 Special bonus!
Buy JomSocial NOW and you will get:
20% OFF on JomSocial Standard or JomSocial Pro Subscription
JomSocial'sFREE eBook: The Secrets for Creating a Successful Online Community
Read more about this eBook here.
To download free eBook
As soon as you have purchased JomSocial, click here to find a promo code for a 100% discount. The promo code will not be visible unless you have purchased JomSocial.
Get 20% discount on JomSocial and FREE Community-Building eBook NOW!
Social media is now a vital part of the Internet and JomSocial is an essential tool for any Joomla site. You can get a huge discount on JomSocial and a free eBook packed with the knowledge you need to turn your users into a thriving community.
Buy it now and use this promo code when you check out:
bowthemes-20
This offer will expire at midnight (PST) on July 27th,. Don't miss this opportunity to get JomSocial for a crazy, low price!