In this place located a showcase for all of our Joomla Extensions. We try to change the way Bowthemes members contact with our Free and Premium products, by imitating module configuration from the back-end. Why not take a look closer, test carefully as some extensions have distinct menus and others mix inside of it? Thanks for dropping by!
What are these buttons?

View features: Click to view extension's detailed information
User guide: Click to view extension's user guide
Buy now (premium product)/ Download (free product): Buy or download Bowthemes product
How to get the most out of these demo pages?
Each page has 4 main parts:
Part 1: Bowthemes Extensions list at the right side. Let's have a look around to find which extensions you need.
Part 2: Front-end interface of Extension at the center of left side. After configuring parameters below, you can see the change directly in this module.
Part 3: Back-end interface of Extension, below the front-end. Try to work with all parameters here and answer the question in your mind: Is this easy to use and customize as you wish? *Note: We cannot provide some parameter trials due to security reason. These trials were disabled and turned grey. Just bear in mind that they will be available after installing Bowthemes Extension on your Joomla website.
Part 4: Click "Apply" button and look at part 2 to see the change.
How about Responsive and Touch-Screen test?
Simply minimize your web-browser window for testing. About Touch-Screen feature, please open the demo page in mobile device like smart phone, tablet…and try to move items in part 1 of the page.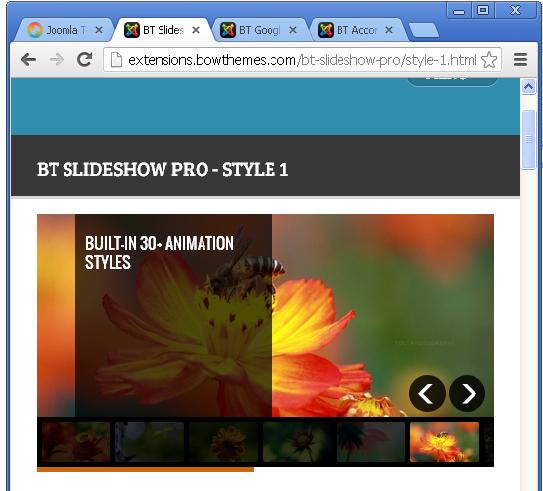 Now, click here to try it your way!